The cuisine of Italy is noted for its regional diversity,
abundance of difference in taste, and is known to be one of the most popular in the world,with influences abroad.
The most important traditional dish of Benevento's Christmas lunch is the cardone beneventano.
A healthy and poor dish. It's Typical Benevento Food!
Poor in ingredients, but absolutely complete and suitable for heating the stomach and minds of people during the cold winter months.
It is a preparation of humble origins, is a soup that takes up the idea of ​​consommé and elaborates it adding thistles (from which the name "cardone" derives), boiled filleted chicken, beaten eggs, minced meat balls and pine nuts. It was said that the cardone is a recipe of peasant origin conceptually and in flavor very distant from the classic lasagna with meat sauce prepared for Christmas lunch in most of the Italian regions.
The preparation is a little long since it begins the previous day with the preparation of the thistles to eliminate the bitter taste and, perhaps, this is why it is normally cooked only once a year.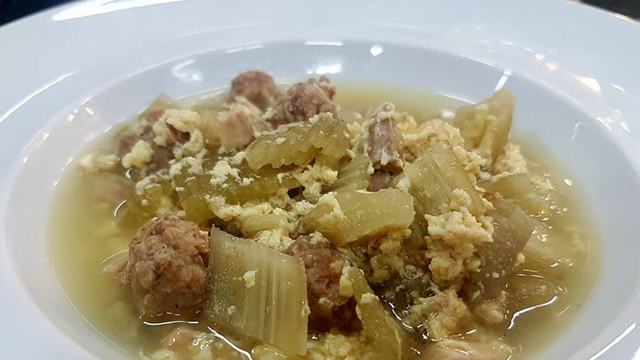 RISTORANTE IL POSTO the best tipical restaurant in the historic center of Benevento. Come and taste the real "Cardone Beneventano" from us.